"Join me as I eat my way through a week of new breakfasts.  Thanksgiving marks the finale, which means I have one full week to try a new breakfast each and every morning.  It could be delicious (it could be outrageous!)  But the whole idea is to just have fun."
Butter rolls.
Pumpkin pie.
Cranberry breakfast scones.
Apple crisp.
Gingerbread cookies.
It was a busy day of baking.  So it made absolute sense that for breakfast, I craved simple.  Simply cereal.
The big issue that I have with cereal is that it tastes great but I end up starving not long after.
My solution is to fill the bowl with fiber-rich blueberries (frozen, since the fresh ones are so expensive right now!), walnuts and flax.  The fat, fiber and protein (from the milk) provides the perfect combination to keep me feeling full and happy.
Some of my favorite cold cereals:
1. Trader Joe's High Fiber Cereal (this morning's cereal of choice!)
2. Kashi Go Lean
3. Nature's Path Heritage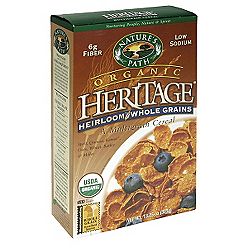 4. Barbara's Shredded Spoonfuls
These are all high fiber cereals without tasting like cardboard.  Don't let the brown color fool you. 😉
Fill-Me-Up Cereal Bowl
1.5 cups high fiber cereal
1 cup frozen blueberries (I like using Wyman's, which are tiny and sweet)
1 Tbsp. crushed flax
2 Tbsp. walnut pieces
1 cup vanilla soy milk
Combine cereal with frozen blueberries and flax.  Add walnuts on top.  Pour on soy milk and enjoy your busy morning!
QUESTION: What is your favorite cold cereal?
QUESTION: What are you most thankful for this Thanksgiving?
I wish you all the Happiest of Thanksgivings!!!!!!!!!!!!